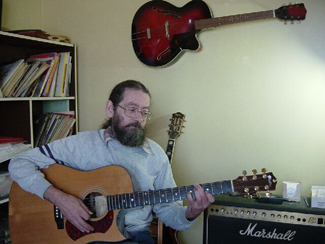 Ross Gibson
Professional Guitar Tutor

Over 25 Years of
Professional Teaching Experience

Electric, Acoustic and Bass Guitar
One to One Instruction
Daytime & Evening Classes
Guitar Styles
One to one tuition ensures that you get the best possible outcome from the time that you invest in learning to play guitar. Styles include:
Pop
Rock
Jazz
Rythm & Blues
Contemporary Guitar
Based in the Perth suburb of Gosnells, Western Australia, I cater to all ages from 9 to 90 - from beginner to advanced. Learn from the very start or commence at a level that is suitable with your current skill set!
Private lessons ensure that I understand your learning needs and can tailor each lesson to your personal goals, musical tastes and current progress. Every student will gain the advantage of learning to read music properly whilst having fun learning to play guitar. Each student is taught by myself and I take great interest in their development.
Playing guitar is fun, rewarding and a great introduction into the world of music.
Day and evening classes guarantees that a suitable time can be found for house wives, shift workers, school students and all!
My Approach to Teaching/Teaching History
Frequently Asked Questions
Current & Past Students
Websites of Interest
How to Arrange Lessons/Contact Me